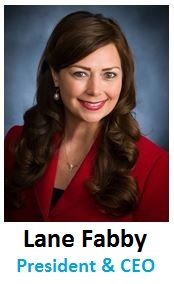 Ms. Lane Fabby is a strategic leader that has 25 years of experience in building workforce development programs for both the public and private sectors, and providing professional development and coaching services to individuals, teams, and organizations. Lane is a former Client Solutions Executive at IBM and is the founder of Radiance University at Radiance Technologies. She has worked internationally, with U.S. coalition allies, and supported building partnership capacity at the United Nations Regional Service Center Entebbe in Africa. Lane has had the unique opportunity to work with CEO's of Fortune 100 companies, thought leaders, best-selling authors, and top military and civilian officials.  Through this rare experience in knowing individuals who have helped shape the 21st century workforce, Lane has gained an extensive knowledge base in identifying clients' needs, designing high-quality learning events, and delivering high-impact programs aimed at changing thinking and behaviors.
Lane is a keynote speaker and specializes in the areas of executive and leadership development, training and facilitation, curriculum design, team development, and executive coaching. From Lane's experience working with military Admirals, Generals, and Senior Executive Service members, she understands the importance of well-facilitated events, promoting strategic thinking, connecting with participants, encouraging rich dialog, recognizing learning moments, asking provocative questions, and implementing experiential learning in order to create a deep learning experience resulting in high performance and organizational culture change.
Lane earned a Master of Science degree in Global Business Leadership from the University of San Diego, coupled with specialties in leadership development, project management, and business operations. Additionally, she holds a certification in Appreciative Inquiry, High Order Thought TM, IBM Global Sales School, Polarity Thinking, Project Management, Strengths Advocacy, and is a Temperament Personality Certified Professional. She is also a qualified Executive Coach through the Center for Executive Coaching, International Coach Federation Accredited.
Lane is the Inaugural Program Director of the U.S. Army Master Logistician Course, a Harvard ManageMentor Instructor, and a published writer. She is an education ambassador for the U.S Space and Rocket Center Education Foundation, board member of the Huntsville Museum of Art Foundation, and a member of the Association of Professional Coaches, Trainers and Consultants. Lane is an Instructor in the U.S. Army Senior Service College Fellowship program at the Defense Acquisition University and has taught in the program for 10 years. Additionally, she is the former President of the Women's Economic Development Council and is a graduate of Leadership Huntsville.
Lane has served as the Client Solutions Executive at IBM, Assistant Vice President of Learning and Development at Radiance Technologies, Director of Professional Development at The University of Alabama in Huntsville, Director of Operations at Frew & Associates, Special Assistant at the Naval Postgraduate School, and as an Advisor to senior executives in private industry, U.S. Department of Defense, Army, Navy, NASA, FBI, and former Congressmen. She is married with three children and resides in Huntsville, Alabama.
---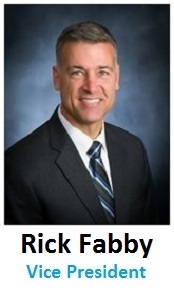 Mr. James (Rick) Fabby is currently working as the Staff Chief at Redstone Test Center (RTC) for Five Stones Research Corporation. Prior to RTC, he served as a Senior Logistics Analyst and Team Lead for Venturi Aerospace, Inc. supporting the Missile Defense Agency (MDA) Targets and Countermeasures program office.  He was responsible for planning, managing, and executing the logistics program for MDA/TCL/TCN whose products are essential to the testing of Ballistic Missile Defense capability.
Previous to MDA, Rick was the General Manager for Republic Services in Huntsville, AL and was responsible for managing processes and leading 100+ people within a $37M Business Unit, including full profit/loss responsibility for all facets of the organization.  He served in the U.S. Navy from 1986-2011 and retired as an O-5 Logistics Officer. Rick specializes in the areas of organizational design, employee engagement, change management, strategic thinking, and large-scale initiatives that enable organizational alignment toward critical business objectives and outcomes. He focuses on identifying, tracking, and analyzing metrics to measure organizational effectiveness solutions. 
Rick's military experience includes Logistics Staff Community Manager at the Bureau of Navy Personnel, Contracting Officer, Deputy Department Head for Policy and Special Assistant to the Deputy Assistant Commander at the Naval Air Systems Command, Chief, Commodities Contracting Division, Baghdad, Iraq at the Joint Contracting Command Iraq/Afghanistan,  Logistics Staff Officer at the NATO Component Command Maritime, Southern Region, Logistics Manager (Supply Officer) on the USS Coronado (AGF-11), Flag Aide to the Commander of Navy Supply Systems Command, Disbursing Instructor, Assistant Planning Officer and Public Affairs Officer, Navy Supply Corps School, and Disbursing Officer, USS Harpers Ferry (LSD-49).
Rick holds a Master of Science in Acquisition and Contracts Management from the Naval Postgraduate School. Rick's certifications include, PMP Certification, Joint Services Officer, DAWIA Level 3 Contracting, Defense Acquisition Corps, and Demonstrated Master Logistician. Rick is married with three children and currently resides in Huntsville, Alabama.
---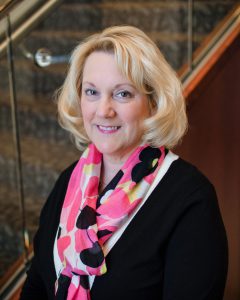 Susan Steinhauser, Marketing and Business Development Lead
Susan serves as a consultant for clients in the areas of marketing, business development, training, and engineering services. As President of Strategic Marketing Partners, LLC, a Marketing and Business Development firm, she works exclusively with Fabby Leadership Solutions in the areas of leadership and talent development. Susan has worked extensively with NASA, the Department of Defense, and commercial entities providing training and engineering services, and has developed successful long-term plans for client companies and non-profit organizations to implement strategic vision, create and execute marketing and public relations plans, identify teaming opportunities, and hone client focus.
Susan holds a degree in Business Administration /Marketing from the University of Alabama/Huntsville. She is currently on the Board of Directors for the Women's Economic Development Council (WEDC), and has served as VP of Marketing on the Board of the Huntsville Art League, VP of Programs on the Board of Junior Achievement of North Alabama, Board Member on the WEDC Foundation, and the UA/Huntsville Alumnae Association. She was the President/CEO of Steinhauser and Associates, a computer consulting and training company; Team Lead for Teledyne Brown Engineering's Training and Multimedia group; Flight Controller in ISS Payload Operations at Marshall Space Flight Center; International Marketing Manager for AVEX Electronics; and Systems Engineer for both NASA and Department of Defense contractors. Susan is married with two children and currently resides in Huntsville.