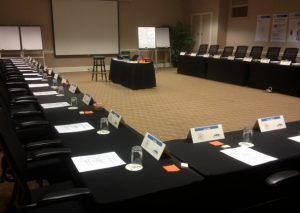 Five Reasons to Hire FLS
Are you looking for high-impact leadership development training for events, facilitation for meetings, a keynote speaker for conferences, or executive coaching for yourself or your team? FLS provides a unique learning approach and has the knowledge, experience, and credentials you need for sustainable change.
1. Custom Design
At FLS, we take time to truly listen to our clients to get to know the vision and mission of the organization and what they want to accomplish. We also take time to get to know others in the organization who are working to make that vision a reality. For you as a FLS client, that means dedicated time to truly build the trust it takes and custom design a program to make change happen over time in your organization.
2. Clearly Defined Goals
The professionals at FLS are focused on a level of detail that many organizations are not. We build a clearly defined set of goals for each program from a one hour talk to a multi-week retreat. There is no guessing about what you want to achieve for your organization and how we can help you get there as a result of your time and money invested with us.
3. Expertise
FLS professionals have more than 40 years of combined leadership development experience in designing and delivering events. We understand the importance of well-facilitated events, connecting with participants, promoting rich dialog, recognizing learning moments, asking provocative questions, and including experiential learning and interactive team exercises in order for participants to attain a deep learning experience.
4. Experience
FLS professionals have conducted countless speaking engagements, seminars, workshops, courses, programs, and events. We have learned what works and what does not work inside and outside of the training room. When you hire FLS, you gain the experience of a team that has propelled individuals, teams, and organizations to a higher level.
5. Authenticity
When you hire FLS, you hire a team that is dedicated to authenticity and high-impact sustainable results. We will tell you the truth, the whole truth, and even the truth when it sometimes hurts. If you are looking to hire a consultant, facilitator, speaker, or executive coach with a high level of authenticity and integrity, please give us a call at 256-858-1276.