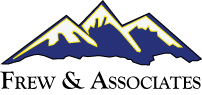 Frew & Associates is a professional and executive development consulting firm that developed the learning model, High Order Thought™, which consists of Mindstate, Thinking, Communicating, and Reflecting. The foundational idea of High Order Thought™ suggests that the highest levers to clearer and more effective thought and behavior are being aware of your "State of Mind," being attentive to your "Communicating," being cognizant of yours and other's "Thinking," and being mindful of your "Reflecting." Each of these foundations when frequently visited and applied can radically improve an individual and an organization. For more information, please visit www.FrewAssociates.com.

Robert English Leadership provides facilitation, speaking, training, and executive coaching services to individuals and groups in the areas of leadership development, professional skills, human behavior, and personal growth. Trained and mentored by John Maxwell and mentors from his world-class faculty, Bob English is equipped with the tools, resources, and experience to help you and your team improve productivity, performance, and profitability. Whether you are looking for a facilitator for group workshops, corporate training in leadership, speaking, sales, or coaching skills for your leaders, Bob has access to exclusive content that is only available through a certified Executive Director of the John Maxwell team. Bob also brings 30 years of military experience to deliver the results you need. For more information, please visit www.RobertEnglishLeadership.com.
Miriam Ezell, owner of CORE Business Strategies, comes from a strong business background. After spending many years as a CPA and VP of Finance her first "coaching moment" came after developing and teaching a class that helped her team members understand the importance of leading and directing their own future. This experience ignited in her a passion for making a difference in the lives of others through teaching, training and coaching. Miriam is a Certified Coach and has been coaching individuals and teams to improve their business and leadership acumen since 2013.   She brings her CORE values to stretch, challenge and help individuals and teams grow to their full leadership potential. For more information, please visit www.coachmiriam.com.